CoolSculpting For Men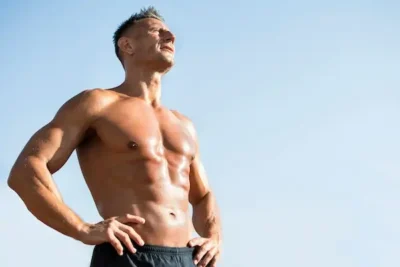 CoolSculpting for men is a non-invasive treatment proven to freeze and reduce stubborn fat deposits across the body. This popular body contouring technique in the greater St. Louis area delivers controlled cooling to effectively target unwanted fat cells beneath the skin.
On application of the CoolSculpting machine, targeted cells crystallize (freeze) before shriveling away and dying over a few weeks. Naturally, your body then disposes of them, giving you a more sculpted and trim appearance.
CoolSculpting Fat Reduction For Men
The CoolSculpting procedure excels in targeted fat loss across key problem-prone areas of the male body. The treatment was specifically designed to tackle unwanted areas of fat that strict diet and exercise can't reduce alone. This fat elimination makes it perfect for men who have undergone gym training but have stubborn fatty areas in places that are difficult to tone, like the abs or love handles.
The procedure is also ideal for men who carry too much weight in core areas like the stomach or chest, making it a highly versatile fat-reduction technique. In addition, thanks to numerous peer reviews and clinical papers verifying its efficiency, men can be safe knowing that the procedure works.
CoolSculpting For Men Treatment Areas
The CoolSculpting procedure was first approved by the FDA (the US Food and Drugs Administration) in 2009 and has been cleared for use across the male body in the following areas:
Submental region (double chin)
Inner & outer thighs
Abdomen
Flanks
Chest fat
Back fat
Underneath the buttocks (banana roll fat)
Upper arms (bingo wings)
With over 19 years of advanced training and sculpting techniques, our Eternity Med Spa artist treats men in the the greater St. Louis area with CoolSculpting in the stomach, chest, and flanks areas.
Sculpted Male Chest with CoolSculpting
Many men prefer to have well-defined pectoral muscles, and muscle training at the gym via weight-lifting exercises like the chest press will help to develop this look. But sometimes men still suffer from a case of 'man boobs,' as the muscles may grow, but the fat remains. The chest can gain a more toned and structured appearance by freezing and eliminating fatty deposits in a targeted way using CoolSculpting.
Freeze Away Belly Fat With CoolSculpting for Men
Carrying excess weight around your belly area is a health and aesthetic issue. Storing too much tummy fat increases the risk of several health conditions, from cardiovascular problems to high blood pressure, while also slowing down testosterone production.
Therefore, men must target this area by exercising regularly and adopting a well-balanced diet. CoolSculpting for men in the St. Louis area can help to accelerate the fat removal process in this problem-prone zone through its highly strategic approach. This fat elimination makes it an ideal method to help men gain a more defined six-pack, for example, so the stomach is beach body ready.
Reduce Men's Love Handles
'Love handles' is another name for the fat that gathers around a man's waistline. Also known as a 'muffin top,' it can often prevent you from getting into your favorite pair of jeans. Even with an intensive exercise regime, love handles are often hard to shift.
But CoolSculpting can effectively target men's love handles by freezing the fat cells in this challenging area. On average, men can lose up to 27% of subcutaneous fat cells in the love handle zone, making it a clear game-changer for this area.
Book A CoolSculpting Appointment!
Call our team at Eternity Med Spa in Creve Coeur at 314-469-2946 to schedule a personalized Coolsculpting consultation today! We treat patients with CoolSculpting from Creve Coeur, Chesterfield, O'Fallon, Manchester, Sunset Hills, MO, and many surrounding areas in the greater St. Louis area.