Venus Legacy
Venus Legacy™ provides safe and effective treatments to contour the body, smooth cellulite, tighten skin, and lessen wrinkles and fine lines on your face and body. The treatments are done safely, comfortably, and with zero downtime.
As a person ages, evidence of the passing of time can become very noticeable in many areas of your body, including your skin's appearance and texture. For example, fine lines and wrinkles can become more apparent as the collagen in the body begins to weaken slowly. As a result, skin can lose its tightness and flexibility until it ultimately stops feeling as smooth as it once did.
Several surgical treatments and innovative non-surgical cosmetic procedures are capable of toning, contouring, and tightening the skin. Venus Legacy is one of the leading non-surgical treatments to tighten skin, improve skin tone, and sculpt your body.
Venus Legacy treatment in Creve Coeur can contour the body, reduce the appearance of lines and wrinkles, and tighten the skin. Venus Legacy treatment also reduces cellulite by stimulating elastin fiber and collagen production and reducing fat cells!
The treatment is perfect for sagging skin around your neck, loose skin on your arms, unwanted wrinkles, or uneven texture on your body. In addition, Venus Legacy can help patients regain confidence in their bodies with fast, non-invasive treatment with no downtime.
We specialize in many-body contouring and sculpting treatments at the Eternity Med Spa, including the advanced Venus Legacy treatment. If you are displeased with the looseness of your skin or the fat cells in some areas of your body, then we can help you to enhance your appearance and improve your confidence with Venus Legacy.
The treatment delivers highly noticeable results, including improved skin tightness, toning, and contouring on your legs, arms, abdomen, neck, face, and jawline.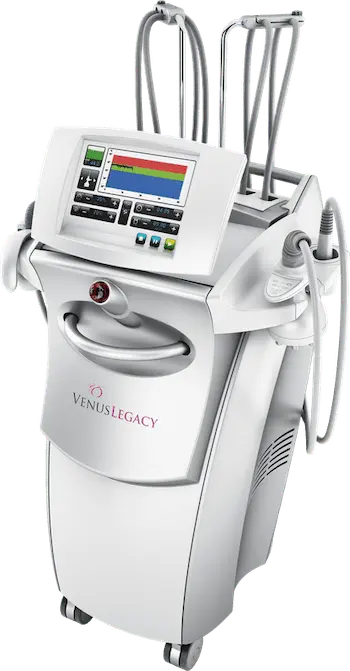 This fast and comfortable procedure can treat multiple common conditions, with results that can:
• Minimize the appearance of fine lines
• Soften the appearance of wrinkles
• Reduce the prominence of stretch marks
• Tighten skin that has lost its elasticity
• Smooth and reduce cellulite
• Contour the arms, legs, face, and abdomen
• Enhance definition and tighten the neck and jaw
• Reduce bumps and dimples
If you want to enhance the shape, texture, or appearance of your body, then the medical professionals at the Eternity Med Spa in Creve Coeur can work with you to develop the best treatment plan.
WHO IS THE BEST CANDIDATE FOR VENUS LEGACY TREATMENT?
The ideal candidate for Venus Legacy is someone who wants to tighten their skin and reduce the appearance of lines and wrinkles. Also, patients with stubborn body fat who have trouble losing it through a healthy exercise routine and diet are great candidates for Venus Legacy treatment.
Venus Legacy is an ideal treatment option for all skin types and patients looking for a fast, comfortable, and pain-free treatment. In addition, as Venus Legacy treatment has no downtime, it is perfect for patients with busy schedules who don't have the time for a more invasive treatment.
While Venus Legacy is a convenient option for many people looking to increase skin tightness and remove stubborn fat, some candidates are not ideal for the treatment. Such as those who:
Are pregnant
Have a history of cancer
Have a heat-stimulated disease around the treatment area
Have inflammation or an infection around the treatment area
Have metal or silicone implants in or near the treatment area
A team member at Eternity Med Spa will provide a personalized consultation before treatment to ensure that you are a good candidate for Venus Legacy treatment in Creve Coeur. Our team will ensure that you have no existing or past conditions that could interfere with the treatment during the consultation. In addition, we will answer any questions or concerns that you have about the Venus Legacy procedure and expected results.
WHAT SHOULD I EXPECT DURING VENUS LEGACY TREATMENT?
When going into a Venus Legacy treatment session at Eternity Med Spa, you can expect a fast procedure that is comfortable, pain-free, and completely non-invasive. The treatment feels more like a warm, relaxing massage than a cosmetic procedure created to reduce fat cells, tighten skin, and contour your body!
The primary part of the procedure involves using the Venus Legacy applicator. The medical professional will slowly move the applicator across the designated treatment areas. As the applicator is positioned gently against your skin, you will feel the slight increase in temperature until it reaches the preferred level of warmth and a slight suction as it moves.
Patients of Eternity Med Spa should not feel any pain during the treatment. However, suppose the temperature or suction starts to become uncomfortable. In that case, it is effortless to reduce the heat and power of the suction to ensure your continued comfort.
The treatment sessions can vary depending on where the physician is performing the treatment, but typically you will find that the procedure lasts between 15 and 30 minutes, which means that a patient can schedule a procedure during a lunch break.
Depending on the results you are hoping to achieve, the number of treatments that the medical professional advises may differ. The medical professional will suggest between 6 and 8 treatments for each target area in many instances. These treatments are generally scheduled about a week apart. The physician may recommend maintenance treatment in the long term, and the sessions will take place every few months.
If you have concerns about the procedure, the cosmetic experts at the Eternity Med Spa can answer any of your questions.
RECOVERY TIME AND RESULTS AFTER THE VENUS LEGACY PROCEDURE
The recovery after Venus Legacy at the Eternity Med Spa is as simple and relaxing as the procedure. Instantly after the treatment, you are likely to feel very relaxed and comfortable, with no pain, irritation, or redness. The only observable signs that you have just undergone a cosmetic procedure will be slight flushing of your skin and a warm sensation that will begin to fade quickly.
After treatment, patients return home or back to work directly after the treatment has finished, without any symptoms or side effects. You'll need to take no special precautions after the procedure or in the following days. You can follow your regular skincare routine as soon as the process is completed.
When you have finished your final Venus Legacy treatment in Creve Coeur, the procedure results will become apparent over the next 3-4 months. You will see gradual improvements in skin tightness, wrinkles, and volume of fat cells.
Venus Legacy Treatment from Eternity Med Spa
Whether you want to eliminate bumps on your thighs, slim down your abdomen, or fade facial wrinkles, Venus Legacy is an effective cosmetic treatment to consider. At the Eternity Med Spa in Creve Coeur, we give our patients the professional advice they need to achieve perfect results. Contact our med spa team today at (314) 469-2946 to book your personalized consultation with an expert cosmetic physician at the Eternity Med Spa!