BOTOX Cosmetic Injectables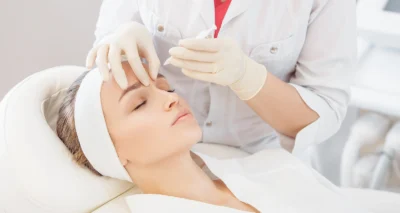 BOTOX® Injectables is an FDA-approved protein and the cosmetic form of botulinum toxin. The protein reduces muscle activity and dynamic skin wrinkling. With over 17 years of advanced-training, our nurses and physician at Eternity Med Spa have a deep understanding of the facial anatomy, muscle activity, and BOTOX injection itself. Our Eternity Med Spa nurses will consult with you before injecting BOTOX and other cosmetic injectables and dermal fillers to achieve your desired results.
benefits of BOTOX® Cosmetic
BOTOX® injections in Creve Coeur temporarily smooth and lessen the vertical frown lines between the eyebrows, horizontal forehead creases, crow's feet around the outer eyes, bunny lines, vertical lip lines, DAO's chin dimpling and visible neck bands, and other less common facial concerns. BOTOX injections can also treat underarm sweating, mandible slimming, and TMJ relief. With over 17 years experience, our team of experts follow the best techniques for injecting Botox and other injectables to give patients the best experience and the best results.
ideal candidate fOR Cosmetic Injectables
To see if you're a suitable candidate for cosmetic injectables, schedule a consultation with one of our nurses or our physician to discuss the best cosmetic injectable for your goals. During your consult, our nurses or physician will carefully examine your facial anatomy and create a treatment plan that provides your desired results. Call our Eternity Med Spa team at 314-464-2868 and we will discuss what to expect during your first ever BOTOX treatment.
What Will I Look Like After Botox?
Once you choose to proceed with the procedure, one of our nurse injectors will administrator BOTOX® Cosmetic with the highest quality insulin syringes with the BD micro ultra-fine needle. We purchase the most comfortable needle on the market for your comfort. The full effects of your BOTOX injections at Eternity Med Spa can take up to two weeks, and the benefits should last around three to four months with the proper dosage. Our Med Spa team recommends avoiding laying down flat, bending over, or any kind of exercise for 3-4 hours after treatment. but patients may drive and return to work immediately. Also, we do not want you to rub or manipulate the injected area and do not wear a hat for an entire day after treatment.
What other injectables do we offer?
Eternity Med Spa offers a comprehensive selection of dermal fillers and cosmetic injectables to suit your desired aesthetic goals. In addition to BOTOX, our med spa performs injections of the JUVÉDERM® Family of Fillers; including Ultra and Ultra Plus, VOLLURE, and VOLUMA®, and multiple other dermal fillers.
Contact Eternity Med Spa for BOTOX® Today!
For information about cosmetic injectables, schedule a personalized consultation at Eternity Med Spa in Creve Coeur. Don't hesitate to contact us at (314) 464-2868 today. Our patients travel to our office for BOTOX from Chesterfield, Sunset Hills, South County, O'Fallon, MO and throughout the metropolitan St. Louis area.
Learn more about BOTOX & The Signs Of Aging, How Botox Can Improve Your Appearance, and more by reading our Med Spa News!