Eternity Med Spa Treatment & Services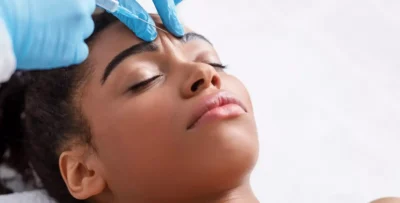 Searching for a medical spa in Creve Coeur that has years of experience and utilizes state-of-the-art technology and products? Eternity Medical Spa offers Creve Coeur, Saint Louis, and outlying St. Louis metropolitan area residents experienced, customized, and personalized skin care and treatments. We understand that everyone is unique, which is why we strive to determine the perfect skincare regimen every client needs to achieve their desired end results. All of our staff has worked in the medical field prior to working at Eternity Medical Spa and our Metropolitan St. Louis medical spa is an Allergan Platinum Partner.
Our Medical Spa Services
Cosmetic Injectables
We offer various types of cosmetic injectables, such as Botox, the Juvèderm Family of Fillers (Volbella, Vollure, Voluma, Ultra, and Ultra Plus), Kybella, and Radiesse. Many people wish to use cosmetic injectables to plump their lips, enhance facial contours, soften facial wrinkles and creases, and diminish scars. Cosmetic injectables are simple, non-surgical injections that make your face appear more youthful.
Laser Treatments
Laser treatments can be used to eliminate unwanted facial imperfections, and embarrassing veins. At Eternity Medical Spa, we also offer Venus Viva micro radio frequency technology for the most effective skin resurfacing. With little no downtime. We offer the award-winning Cutera XEO Yag laser platform which helps eliminate facial imperfections, including fine lines and wrinkles, brown spot removal, acne and rosacea, treats broken capillaries and leg veins, smoothing and tightening of pores and skin, shinks pores, improves new and old scars, post surgical scars, acne scars, and more. Learn More..
CoolSculpting
Developed by Harvard scientists, our unique, FDA-cleared, patented procedure uses a targeted cooling process that kills the fat cells underneath the skin, literally freezing them to the point of elimination. Only fat cells are frozen. Your healthy skin cells remain. No knives. No liposuction needed. No needles. No scars. Simply, artistic sculpting and fat destruction. Once crystallized, the fat cells will not grow back. In a few months, boom: say hello to a new you. It is important to be treated by a CoolSculpting treat. Our Coolsculpting expert has over 17 years of experience using CoolSculpting. Learn More..
Facials
Eternity Medical Spa's skin care experts can perform different types of facials and peels that can make your face appear and feel younger. For example, we offer acne facials, which can resolve acne breakouts and brighten facial discoloration, as well as medical grade facials, which include a microderm, peel, masque, pore extraction, upper-body massage, and peptide treatment. Learn More..
Sclerotherapy
Sclerotherapy is a popular method of eliminating unsightly veins and superficial telangiectasias ("spider veins"). A solution, called a sclerosing agent, is injected into the veins to break down the vein wall. Call today to schedule your complimentary consultation. We use Asclera, the only FDA approved prescription injectable in the U.S for treatment of spider veins. You not longer have to feel self-conscious of your legs. Learn More..
Let Eternity Medical Spa Care for Your Skin Care Needs
Our medical spa has 17 years of skin care experience and has successfully helped dozens of Saint Louis residents resolve their skin conditions. Whether you have acne, frown lines, wrinkles, cellulite, or any other type of skin issue, our skin care experts can help. You no longer have to look your age-let Eternity Med Spa uses its innovative age-defying technology to help you look and feel younger! If you would like to schedule a free consultation with one of our skin care professionals, contact our office at 314-464-2868.