Reduce Back Fat & Bra Fat with CoolSculpting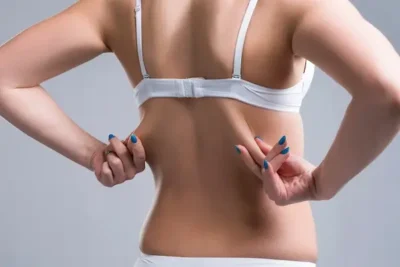 Unwanted back fat removal is a popular treatment area for many patients around the greater St. Louis area. Coolsculpting treatment allows us to eliminate fat in target areas without causing any damage to the skin, as other, more invasive fat-reduction treatments would. With over 19 years of experience and advanced training, our Coolsculpting artist, provides patients in the St. Louis area the best results and treatment plan for their goals and body.
Cost To Reduce Back Fat
The cost to reduce back fat with CoolSculpting will differ from one patient to another depending on which areas need treatment and how many sessions will be needed depending on how much fat needs reduction. For example, there is upper back CoolSculpting, CoolSculpting for buttocks, and CoolSculpting for back flanks. Each treatment session can cost anywhere from $450 to $900, but always lookout for new Coolsculpting deals or packages.
Coolsculpting Treatment For Bra Fat
When you have unwanted fat around the area of the bra and bra straps, the fat pockets become even more apparent and very uncomfortable every time you put one on. Coolsculpting does a beautiful job reducing back and bra fat. As we reduce the back fat around the bra with CoolSculpting, unwanted back, and bra bulges will no longer be a problem.
Causes of Back Fat Under Bra Line
As with other areas of the body, pockets of back fat bra appear due to an unbalanced diet, an inactive physical lifestyle, and uncontrollable factors, including genetics, hormones, and disease. Fat builds up differently for everyone; in the case of bra fat, some people may have it, and others do not. Coolsculpting therapy is one of the best ways to sculpt this area, allowing you to wear your favorite bras without discomfort.
Eliminate Fat Under Bra Line
Our highly trained artist will place the CoolSculpting bra fat applicator on target areas around the body where the bra roll fat has accumulated. When our CoolSculpting artists freeze the fat cells in that area, they cause them to die out, reducing the fat bulge slowly. With the fat bra areas now reduced, they become leaner, and the lumps and extra pockets of fat sticking out around the bra will no longer be visible. We use this same technique with almost any area of the body with similar problems with fat bulging, such as armpit fat removal, amongst many others.
Contact Eternity Med Spa For A Personalized Consultation!
Call our team at Eternity Med Spa in Creve Coeur at 314-469-2946 to schedule a personalized consultation today! We treat patients with CoolSculpting from Creve Coeur, Chesterfield, O'Fallon, Manchester, Sunset Hills, MO, and many surrounding areas in the greater St. Louis area.