Sculpted Abs with Coolsculpting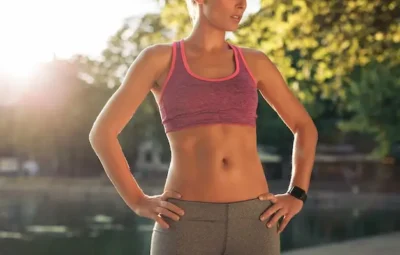 Many patients around the St. Louis area come to Eternity Med Spa for Coolsculpting to eliminate stubborn belly fat. The stomach is a common area of the body to develop a significant buildup of fat that is often very challenging to get rid of. The lower belly is one of the first places fat accumulates and the last to go naturally. As a result, only a few individuals can burn through it on their own and require treatments such as CoolSculpting for abdominal fat to get the rest of the job done. With over 19 years advanced training and techniques, our body sculpting artist gives patients the visible result of a sculpted stomach with Coolsculpting.
CoolSculpting treatment for belly fat is a very effective way of getting rid of stubborn belly fat. In addition, you can have CoolSculpting on the lower abdomen, as the procedure also works on more specific areas of the body. For example, CoolSculpting may reveal your abs hidden under an extra pocket of belly fat for a long time. Patients of Creve Coeur, MO and the greater St. Louis area find their excess belly fat problematic; luckily, after a few sessions of Coolsculpting, they never worry about it again.
Number of sessions for a sculpted stomach with coolsculpting
One CoolSculpting session on the stomach or abdomen area, may eliminate up to 25% of the subcutaneous layer of fat on the average patient in the St. Louis area. However, the amount of fat reduction varies from person to person depending on several factors. As a result, it can take 1 to 4 sessions for the abdomen results to show. The number of CoolSculpting sessions varies depending on how many treatment areas our Coolsculpting artist treats as well as how much initial fat a patients has.
Cost of CoolSculpting To Reduce Stomach Fat
The cost of Coolsculpting treatment in the St. Louis area varies from patient to patient. If you do not have much-concentrated fat in that area, the CoolSculpting treatment may not require more than 2 to 3 sessions. Fewer appointments mean you can get a generally lower service charge. However, patients typically need 2-4 sessions of CoolSculpting belly fat removal with a different number of applicators. Usually, each applicator costs anywhere from $450 to $900. The cost depends not only on the number of sessions but also on the number of applicators. For your cost estimate, call Eternity Med Spa to consult with one of our professionals, who will offer a more detailed assessment and treatment plan.
Book A Coolsculpting Treatment Today!
Call our Coolsculpting artist, Michelle, at 314-464-2868 to book an appointment to transform your stomach and reduce unwanted fat from your abdomen. With over 19 years of experience, our advanced trained CoolSculpting artist treats patients from Creve Coeur, Chesterfield, Manchester, Sunset Hills, MO, and throughout the greater St. Louis area. To learn more about this fat reduction treatment, read our common Coolsculpting questions that patients around the St. Louis area ask.